Dropshipping (or reselling goods) is a great way to start a business without worrying about inventory or shipping. The scheme is quite simple: you put the product up for sale on your website and, having received the order, write to the supplier to send the product to the buyer on your behalf. We will take a closer look at this scheme in our (slightly updated) translation of an article from the Shopify blog.
The hardest part of doing dropshipping is finding a reliable supplier. But there is a great marketplace for that.
Thanks to AliExpress, you can easily find products to sell in your store without worrying about inventory or shipping. You can pay for goods at wholesale prices, and the seller himself will send them directly to your customers.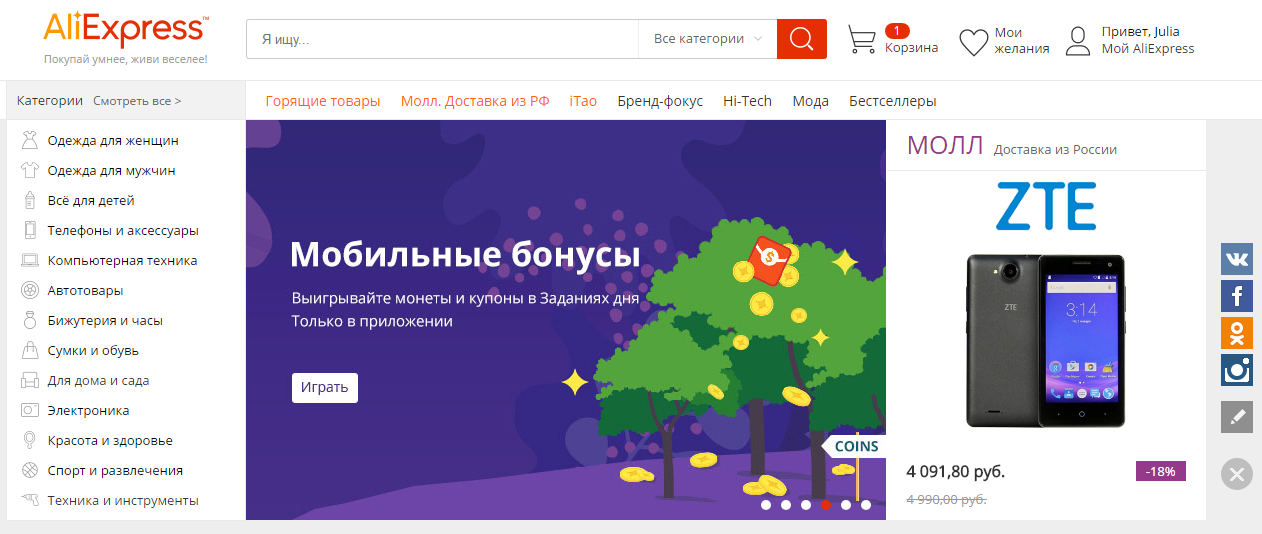 Why AliExpress is suitable for dropshipping
AliExpress is a huge marketplace with a large selection of products that you can sell on your store. Due to the fact that most of the sellers on AliExpress are overseas manufacturers, they offer their products at a very competitive price.
Although AliExpress markets itself as an online retailer, most sellers on AliExpress understand that most of their buyers are resellers, so they are interested in dropshipping.
Plus, it is very easy to do dropshipping with AliExpress.
You do not need to purchase products in advance, so you can test different products on your site at no cost. You can do dropshipping with AliExpress today without investing a dime.
Most sellers on AliExpress upload great product photos that you can use on your website and also provide detailed descriptions so you can describe the product on your store.
And finally, the dropshipping scheme is very simple – having received an order on your website, you place an order on AliExpress, and indicate the client's address for delivery.
Below we describe this process in more detail, and also tell you about what to look for when choosing a product and a seller, as well as how to set yourself up for success. In general, everything is not so difficult.
Why would someone buy an item from your store when they can buy it themselves on AliExpress?
When doing dropshipping with AliExpress, your competitive advantage will not be the price or the uniqueness of the products offered. After all, this is arbitrage trading.
Good marketing and proactive customer search can become your competitive advantage. Branding, content creation and excellent support can also help you increase the value of your business in the eyes of your customers.
Store creation
Now that you understand how dropshipping works with AliExpress and what to focus on on your website, you need to launch the website. To do this, you can use the Shopify platform, it is one of the simplest and most popular platforms for creating online stores. Or you can look for alternative and less expensive options with a free plan such as Tilda, Shop-Script, etc. But do not rush, first think about what exactly you are going to sell. Then you can choose a design that suits your chosen niche.
Choosing a niche and products
The first and important step in setting up your store is to define your niche. If you're not sure where to start, take a look at what product categories are on AliExpress and decide what interests you the most and what would be most interesting for you to sell.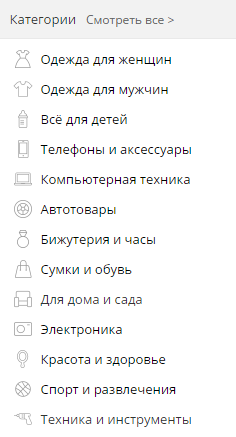 Once you've decided on a niche, it's time to start picking out the products you want to resell in your store. In our example, we chose sneakers as a niche.
There are many products sold on AliExpress, too many. To avoid headaches, choose quality products from a reliable supplier.
We have compiled a small list of criteria for choosing the right product. These criteria are not supported by research and are based only on our experience, but they can help you find reliable sellers. Here are some things to look out for:
No brands, fakes, or imitations. It is better to give up branded items so as not to resell fakes and imitations. Choose unbranded products. If the product has a logo, then it is better to refuse it, even if this logo is real. It is not worth taking the risk as you are not an official brand ambassador and you cannot be sure if the product will be genuine. This can significantly reduce the choice of merchandise for resale, so it's best to choose a niche where the brand doesn't matter – like electronic accessories or apparel.
Free shipping with the ability to track the parcel. Whenever possible, select products from sellers who provide free shipping with tracking of the package all the way. Read the product description – sometimes the shipping method varies depending on the order amount, and cheap packages are only tracked in China. The best thing is when the seller provides ePacket delivery – it is not only cheap but also very fast.
More than 300 orders . If a product has a lot of orders, this speaks of several things. Firstly, this product is in demand. Secondly, the supplier of this product is most likely reliable, since some of these orders may be repeated. When looking for new items, you can sometimes sort items by the number of orders.
Over 4.5 stars rating. It is worth making sure that the product you intend to resell has a high rating (over 4.5 stars) and that the seller has a high rating and good reviews.

For the latter, you can use the extension for Chrome – AliExpress Assistant. It is also available for Firefox, Opera, and Yandex browser. This extension shows a more detailed seller rating.
Low price and the possibility of a potentially high mark-up . Depending on the goods that you plan to resell, choose goods worth $ 1-20 (approximately 60-1200 rubles at today's exchange rate). Thanks to this, you risk less if the goods are of inadequate quality and you lose money, and you can also make a large mark-up on such goods and sell them for $ 20-50 (1200-2800 rubles). For example, on AliExpress, you can find sneakers for $ 20 and sell them for $ 50. This way you get 60% of the net profit.
Lots of good product photos without logo. Just in case, check if the photos are actually provided by the manufacturer and not stolen from another seller. You can do a Google search on the image to see if the photos were taken by the seller himself or were taken from the manufacturer.
Outgoing and helpful salesperson . Do not be afraid to ask the seller questions before placing an order. A good, reliable salesperson will quickly answer all your questions. Sometimes you can even get a discount. If the seller does not respond to messages, this is clearly a wake-up call.
Adding products to your store
Now you have decided on a niche and products, launched a website. Now it's time to add products. Don't just copy pictures and product descriptions from AliExpress. If you want to be successful, take adding products more seriously.
Add your own product descriptions . Descriptions for most of the products on AliExpress are not written by copywriters, and the description usually does not fully reveal the benefits of the product. In addition, actual descriptions are usually available only in English, and Russian machine translation in most cases is difficult to digest. Creating unique content will serve you well in the long run (Google ignores copied content) and will allow you to create sales pages with products.
Please include your expected delivery time . It is a good idea to indicate on the product page (or elsewhere on your site) that the customer will have to wait at least 20 days to receive the order (depending on the supplier). Most of the suppliers are located in China and delivery times vary from two weeks to several months, depending on the shipping method. In addition, we all know how the Russian Post can work 🙂
Use an app or widget to track your order. Since dropshipping has a faster delivery speed than regular online stores, your customers are likely to ask you where their order is. You can use a dedicated Shopify app for your customers to see their order status, or you can add a custom mail tracking widget to your sites, such as Post-Tracker.ru or Post2Go.
Offer free shipping . This can become your competitive advantage. Most sellers on AliExpress ship for free or at low cost, so we advise you to offer free shipping to your customers.
Please indicate appropriate prices . It is best to quote a price about twice the original price. 50% of the bottom line will make your business worthwhile and will also cover your marketing costs.
Add products to your store using apps . There are special applications that will greatly facilitate and speed up the process of adding products from AliExpress to your store. For instance:
Oberlo – app for Shopify
Expressfy – Chrome extension
How to use AliExpress for dropshipping
Now you have launched the site and added products to it. What to do when you receive your first order?
It's pretty simple – when you've received your order, buy the product you want on AliExpress and enter the name and address of your buyer. The seller on AliExpress will take care of the rest.
It's a good idea to create a spreadsheet in Excel or Google Docs with a list of all the products in your store, your price, the seller's price, and a link to the product on AliExpress. Thus, after receiving an order, it will be easier for you to find the right supplier on AliExpress, as well as monitor price changes.
Instead of a table, you can use special applications. For example, the Oberlo Shopify app we mentioned above will help you place orders on AliExpress more easily and keep track of price changes. Price changes can also be tracked through the AliExpress Assistant extension.
When placing an order on AliExpress, letting the seller know that you are dropshipping is a good idea. Then the seller will not put any checks or coupons into the package for your client.
On the checkout page, you can add a message to the seller. We advise you to write a message like: "We're dropshipping. No promotions & invoices, please! " It is better to write your message in English since most sellers do not know Russian.
After placing your order, you will soon receive a message that your order has been shipped. The speed of preparation of goods for shipment depends on the seller.
The letter contains a link to the order page, where you can see the tracking number for the parcel.
After that, you can change the status of the order on your website and allow the client to track the parcel in the way you previously selected.
Done! All that remains is to wait for your client to receive the order. When your package has been delivered, AliExpress will send you an email asking you to confirm receipt of your order. It's worth a little delay with this – make sure that the client has received the package and that everything is in order with the goods. If something is wrong, you can write to the seller or open a dispute on AliExpress to solve the problem.
What about returning an item or money?
Most sellers on AliExpress do not offer return options. Therefore, you will need to deal with the return of goods or funds in several ways. Problems when ordering through your store can most often arise due to the fact that the package did not reach the recipient or your client was unhappy with the purchase.
If the package did not arrive on time, you need to deal with the seller on AliExpress. You can either contact the seller directly or open a dispute through the buyer's protection system.
If your client is simply unhappy with the purchase, we offer a refund. If the goods are damaged, ask the customer to take photos and send them to the seller on AliExpress, and solve the problem with him.
Growing your business
After you've completed a few orders, it's time to start looking for ways to grow your business and make more money.
Over time, you will learn to separate reliable sellers who deliver quality goods from unreliable sellers. It is worth considering building business relationships with trusted sellers. This way you can get lower prices and priority in order processing.
Most sellers on AliExpress use Skype. If you find yourself ordering frequently from the same seller, it might be a good idea to ask their Skype contacts and build a business relationship. Show the salesperson that you can bring in a large number of orders. Then some sellers may allow you to put your logo on the products, and also include customized invoices / receipts or inserts with your logo in the package.
Get started with dropshipping
One of the benefits of dropshipping with AliExpress is the ability to quickly test and evaluate ideas and products. Not sure if a particular item will be on sale? Add it to the site and see if there will be orders. No orders? Just remove the item from the catalog and try something else.
Since you do not need to purchase goods in advance and regularly check their availability in stock, you run almost no risk. Create a website and start growing your business. And add Chatra to the site to quickly respond to customer questions or complaints.