Big screens, no doubt, allow viewers to immerse themselves in the cinematic universe as much as possible, forgetting real life for a while. The world's largest broadcast video screen is located in Times Square, New York, one of the brightest and most extraordinary streets in the metropolis. The main highlight of the street is LED panels continuously broadcasting commercials, as well as the world's largest screen, which occupies almost a block. Large screens are amazing and prove how far technology has come.
Whether you will become the owner of one of these giants or not – we do not know, but what you will be interested to know about the largest screens – we are almost sure! We suggest that you familiarize yourself with the list of the largest TVs in the world.
Note! Dimensions are without stand.
10. LG 86SM9000
Dimensions : (WxHxD) 1926x1106x74 mm
The TV from the famous company LG 86SM9000 86 ″ has impressive characteristics: the device includes a curved elegant stand, a slim body that can transform any modest room. Thanks to the 86-inch screen based on NanoCell technology, the viewer has the opportunity to immerse himself in the surreal world.
Because it supports 4K Cinema HDR technology, you will experience a real visual pleasure in deep colors. The TV supports Wi-Fi and Bluetooth, wired ports and connectors, as well as proprietary technologies that are responsible for optimizing picture quality.
9. LG OLED88ZX9
Dimensions : (WxHxD) 1961x11206x49.9 mm
Admit it, each of you wants to look into the future and find out what awaits him. Looking at the LG OLED88ZX9 88 ″ model , we can assume that we have a bright future when it comes to technology. Thanks to LG, we can look into the future and see what kind of TVs everyone will soon be using.
The 88-inch giant LG OLED88ZX9 88 ″ with the highest resolution is estimated at almost 2 million, it is not surprising that there are no reviews yet – few people could afford it. The prototype of this TV has been taken to exhibitions since 2018. But the prototype is one thing, the finished model is quite another. Officially, this luxury TV can now be bought in Russia.
8. Sharp LC-90LE745
Dimensions : (WxHxD) 2054x1292x434 mm
Hardly anyone would doubt the splendor of the Sharp LC-90LE745 90 ″ TV, which is perfect in every way. Its main feature is, of course, a screen with a diagonal of 90, which makes it one of the largest on the market.
At a resolution of 1920 x 1080, the screen supports 3D and provides a frame rate of 120 Hz. You can watch TV with glasses and you don't even need to buy them, because they are included in the package! Another significant feature of the TV is the built-in sets of Smart TV and Aquos Net + software, which facilitate the use of various functions.
For reference: a TV set in Russia is estimated at 7 839 USD, but in Canada it is cheaper.
7. Sony KD-98ZG9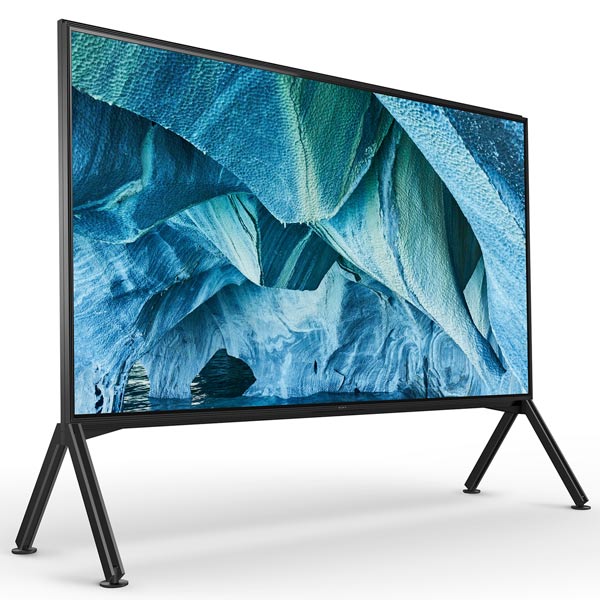 Dimensions : (WxHxD) 2202x1395x486 mm
It is unlikely that such a TV will be able to afford any of the ordinary Russian residents because for its cost you can buy 2 apartments. The Sony KD-98ZG9 97.5 ″ has a price tag of 78 659 USD – this is not a simple TV for 10,000! Why such a fabulous price? Let's try to figure it out.
A TV with a diagonal of 98 does not even fit into every apartment (248 cm.) This model contains all the advanced technologies:
8K X-Reality PRO;
Backlight Master Drive;
Smart TV;
Acoustic Multi Audio sound.
A common man in the street does not need these bells and whistles, but a sophisticated film fan will appreciate it by right. But these are only the most interesting functions, they can be listed endlessly. In the reviews, netizens joke, highlighting the cons of TV: "There is no money for this TV."
6. Samsung QE98Q900RBU
Dimensions : (WxHxD) 2183.5 x 1249.4 x 39.9 mm
"Fire!" – comment on the owners of Samsung QE98Q900RBU 98 ″, but the price is rather big. You will have to pay 52 439 USD for the opportunity to watch films and programs on high-quality TV. Whether it is worth it, you decide.
The Samsung QE98Q900RBU 98 ″ TV reproduces all colors with amazing accuracy, and also impresses with the depth of the image and maximum color reproduction. The resolution of more than 33 million pixels allows the viewer to enjoy crisp images. Even in fast-paced scenes, you'll see great contrast in front of your eyes thanks to intelligent brightness control of each image fragment.
5. Xiaomi redmi the TV Max
Dimensions : (WxHxD) 2190x1354x522 mm
Chinese blogger Wang Qiru has been reviewing various electronics, and this time he shared with users about the 98-inch Xiaomi Redmi TV Max 98 ″ . This TV features 4K resolution and covers 85% of the NTSC color space. Has a dynamic contrast ratio of 140,000: 1.
The blogger became the owner of this amazing TV, and, according to him, buying it is not as difficult as finding a place for it in the house. For the delivery, several professionals had to be involved, and then they helped to place it. The manufacturer paid special attention to the creation of the packaging to prevent the possibility of accidental damage.
4. Sony KD-100ZD9
Dimensions : (WxHxD) 2258x1393x504 mm
Sony KD-100ZD9 100 ″ is a modern TV with a thin bezel around the large screen and inspiring performance. Since the model is equipped with a screen with Ultra HD (4K) resolution, this guarantees the maximum realism of the image. A clear picture makes it possible to see every detail on the screen.
The powerful processor works incessantly, processing every pixel in real time. The TV is equipped with 3D support for high-quality 3D images and a fantastic immersive movie experience.
3. Samsung UE-105S9
Dimensions : (WxHxD) 249.1x146x61.7 cm
Samsung UE-105S9 105 TV with a price tag of a Moscow apartment will be a real gift for someone and will complement a luxurious interior. In the reviews of the model, netizens joke: "Price is the main plus of the TV! The price is also its main disadvantage "," Abramovich gave it for his birthday! "
The price is really huge for a person with an average salary (its price is 57 552 USD ), but for its characteristics, it is quite tolerable. The screen resolution corresponds to the Ultra HD standard (in this case, the screen resolution is 5120×2160). The screen is capable of reproducing 3D, 2 pairs of glasses are supplied in the set. The TV is equipped with a webcam and supports both voice and gesture control.
2. LG 105UC9V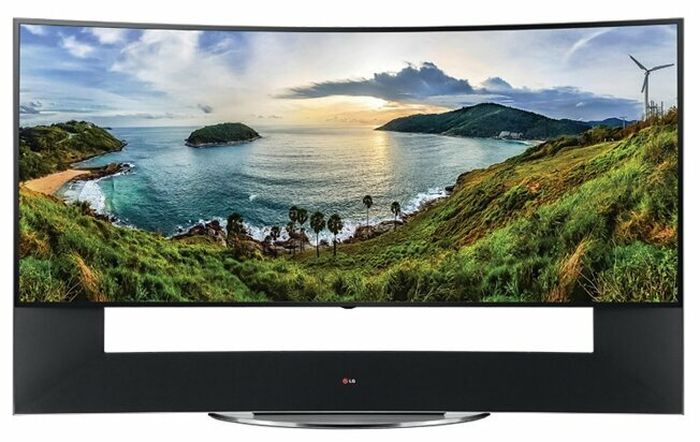 Dimensions : (WxHxD) 249.4 x 151.2 x 48.6 cm
It is difficult to highlight the main advantages of the LG 105UC9V 105 ". since there are quite a few of them. But we can highlight the main brief characteristics of the model:
curved screen;
smart tv;
support for 4K UHD;
resolution 5120 × 2160;
support for 3D images, etc.
Thanks to this TV, the user will be able to discover a whole new level of entertainment. The premium device automatically converts the image from normal format to extremely realistic, so the viewer will always be in the center of "come to life" events, as if descended from a 105-inch screen.
1. Panasonic TH-152UX1W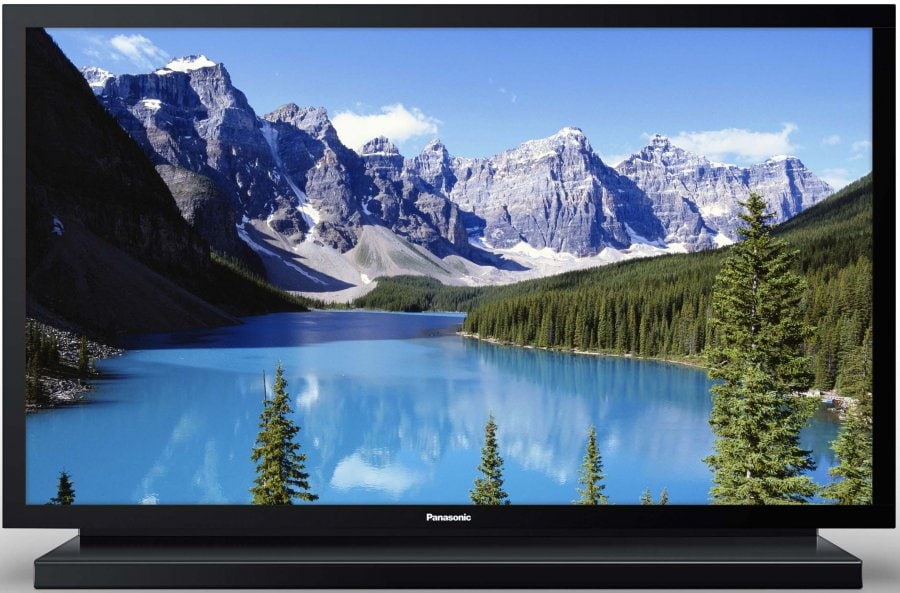 Dimensions : (WxHxD) 249.4 x 151.2 x 48.6 cm
Our selection is completed by a fantastic value model. Plasma model Panasonic TH-152UX1W 152 ″ is estimated at 524 268 USD – hardly any ordinary Russian citizen will even be able to save up for it.
The 3D TV has a 4096×2160 resolution screen, which allows the viewer to witness the events on the screen. Who would not like to consider every detail in a favorite movie and even see what sms one of the characters is typing? This is possible with the 152 "Panasonic TH-152UX1W 152".
Fun fact: despite the fact that this TV was released back in 2010, this model is still not only the largest plasma display in the world, but also the most expensive one available to the consumer.